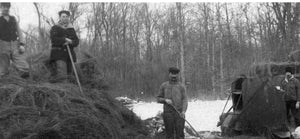 FROM THE WILDERNESS TO THE WORLD
The history of the world's best
meat snack begins in Northern Wisconsin with the Link family.
FRONTEIR ORIGINS OF BEEF JERKY
It was the Native Americans who invented jerky. They cut buffalo meat into thin strips, dried it in the hot summer sun, and smoked it over the fire.
They seasoned the meat with herbs found in the surrounding wilderness. Meat cured in this fashion served as a provision on strenuous hunting expeditions, as it was easy to transport and keep for a long time. It also gave the hunters energy with its high levels of protein and iron, and low fat content.
IN PERSUIT OF THE AMERICAN DREAM
Our story begins with Jack Link's great-grandfather Chris, who left Germany to make a new life in the US and laid the foundation for Jack Link's.
He settled in Minong in Northern Wisconsin in 1885, having brought along a whole host of delicious meat recipes. His delicacies became legendary in no time, and farmers and lumberjacks practically ripped the snacks out of his hands.
Years later, Chris's son Earl opened a supermarket with a meat counter, selling everything from horseshoes and nails to pots and pans. He kept the old family tradition going by producing the most delicious sausages and the best dried meat that the New World had ever tasted.
FROM FATHER TO SON
Earl's son Wilfred "Wolf" Link was born in 1916 and never left his father's side. The Link family shared their jerky secrets with him early on and he made a name for himself later as a cattle breeder.
He taught his son Jack everything he knew about cattle rearing, the meat business, and how to produce the best products while Jack was still young. Years later, during a hunting trip with his two sons, Jack came up with the idea of trying out old family recipes to produce jerky - and Jack Link's Beef Jerky was born.
THE FAMILY TRADITION CONTINUES
Like the generations before Jack's son, Troy followed in his forefathers' footsteps. There was no escaping the "meat" in his veins. 130 years and five generations later, Jack and Troy work side by side each day with an unwavering commitment to crafting high-quality, delicious protein snacks.