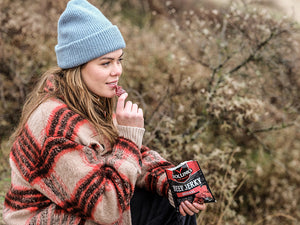 YOUR QUESTIONS - OUR ANSWERS
Retailers and wholesalers interested in Jack Link's products can contact us any time by telephone or e-mail. You can find our contact details on the Imprint.
We very much welcome the interest in the Jack Link's brand. Regrettably, due to the large number of requests for advertising material we receive daily, we are no longer in a position to meet demand. We ask you for your understanding.
Looking to purchase Jack Link´s meat snacks but don't know a supplier? We would be delighted to help you find a dealer in your area. Please contact us.
We are often asked about samples of new or established Jack Link's products. As part of promotion campaigns, e.g. via our Facebook Profile or at tasting campaigns at outlets there are always opportunities to test our products.
In the unlikely event that you are not satisfied with a Jack Link's product, just send it to our address or inform us of the matter by e-mail.
Beef Jerky is meat that is dried according to an old American Indian tradition. Beef is cut into thin slices or strips, then marinated, cooked and dried. This was the way the Indians made non-perishable buffalo meat – protein-rich provisions for hunting and life in the wilderness. Take a look at the products section to find out more.
The best before date is shown on the lower part of the back of the packet. For optimal snack enjoyment the product should be consumed before expiry of the best before date.
The meat snacks should be eaten within 3 days once the packet has been opened, or refrigerated. The practical resealable 70g packets help to keep the products fresh for longer.
Our products will keep without refrigeration if the packet has not been opened. After the packet has been opened, the products should be refrigerated if possible unless they are consumed within 3 days. If the products are frozen, their texture and taste can change, but they are still perfectly fit for consumption. We advise against freezing the meat snacks.
The code next to the best before date is an internal order number for our production. Only the date itself is relevant for the products' storage life.
Generally speaking, our meat snacks are high in protein. Take a look at the web pages of the individual products for information about their nutritional value or read it up on the product packets themselves.
Yes! Our production has been certified according to the BRC (British Retail Consortium) certification. In other words, it meets the exacting standards of food hygiene and safety. Our test laboratories also use cutting-edge technology and ultra-modern microbiological testing methods. Our quality assurance checks the production facilities before and after every production run. The products are only packaged, consigned and shipped worldwide once quality (e.g. colour, taste and texture of the products) and all measurements are right. In this way we ensure that the product you obtain is of best quality and excellent taste.
No, there is no DEHP in the packaging of Jack Link's meat snacks.
"No genetic engineering" is imperative for us. Jack Link's Meat Snacks do not contain any genetically modified organisms (GMOs).
We only use 100% best quality beef for our beef products. Fat and gristle are carefully removed to obtain only the finest Tenderloin.
The small white absorber bag in the packet is not intended for consumption and is clearly labelled "Do not eat" even though the content is not harmful to health. The bag contains iron filings and small clay balls. The clay absorbs moisture and the iron filings ensure that the packets contain hardly any oxygen. This means that the taste and texture of the Jack Link's products are preserved longer.
If a small child has accidentally swallowed the contents of the bag, the advice of a medical doctor should be sought if the body weight of the child is under 12kg. Otherwise the contents are not harmful.
Monosodium glutamate, also known as sodium glutamate, is obtained from glutamic acid, which is found naturally as a part of protein in many foods such as tomatoes or parmesan cheese. Sodium glutamate is used as a flavour enhancer as it heightens and refines the taste of other food, but does not have any distinct taste of its own. It gives food a full and well-rounded taste. As a rule, glutamate is well tolerated by humans and does not pose a health risk. Presence of this ingredient is clearly labelled on any Jack Link's product containing sodium glutamate.
All ingredients are indicated on each packet. You can find information about the allergens the products contains within the product sites on our website.
Beef Jerky Original, Allergens: wheat (gluten) and soy
Beef Jerky Sweet & Hot, Allergen: celery
Beef Jerky Teriyaki, Allergens: wheat (gluten) and soy
Biltong, No Allergens
Gluten is a combination of plant proteins that occurs in cereals. The most common sources of gluten are wheat, rye and barley. However, some people have allergic or incompatibility reactions to some parts of the gluten. Some of our products contain gluten obtained from wheat. Please refer to our Allergens PDF on the product pages. All ingredients are also clearly declared of the packets of the individual products.
Sugar is part of the carbohydrates group of nutrients. Along with fats and proteins, carbohydrates make up the largest digestible part of our daily diet. Particularly after physical exertion such as sport, it is important to replenish nutrient reserves that have been used for optimal regeneration of our cells.
Proteins play the most important role in regenerating muscles and other body cells. However, they are only slowly processed by the body. Beef is, after whole egg (reference value: 100), one of the biologically most valuable sources of protein (index 92) and can be converted into body protein more quickly than other proteins, meaning it can be used for cell regeneration in a short space of time. Intake of proteins together with sugar (carbohydrates) additionally speeds up digestion of the proteins and thus they are available to the body even more quickly for regeneration. Background: carbohydrates can be converted by the body easily and serve as a transmitter or "nutrition taxi" for the accompanying quicker ingestion of protein. Even so: The sugar content of our meat snacks is so low that, in comparison with other snacks rich in carbohydrates, no excessive release of insulin takes place. The notorious "craving" feeling stays away.